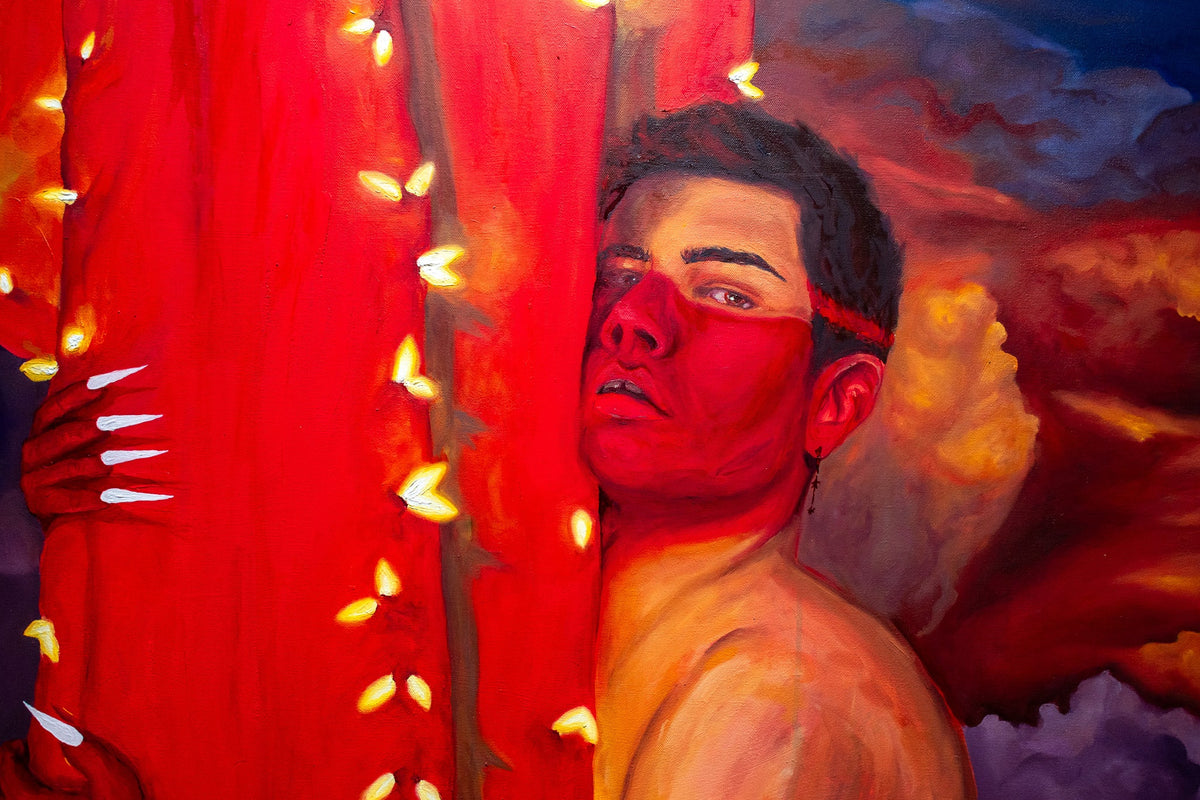 Red Thoughts Art Solo Show: The Recap
Tears flooded down  my mom's face as soon as she stepped foot into the gallery. The day had finally come, her baby was having their work displayed in a gallery for the world to witness. Yes mama, thats right, I'm doing it…This is just the fucking beginning….and girl did we start off with a BANG!
"This is the show that nine-year-old me would have dreamed of attending. "
I had grown up in Riverside until I was 18, then moved to LA to study art at UCLA. After graduating, I returned to the Inland Empire, setting up home in an apartment with my boyfriend and cat. Coming back after such a long time away, I felt like a stranger in my own home. Riverside had evolved, especially in its art scene. So, when Enrique from the BLVE Rose Gallery approached me for a solo show in the heart of Downtown, I was thrilled and honored.
And so began the show, "RED THOUGHTS." Instead of creating a single collection like my Mystic Garden series or starting a new one, I wanted to showcase the range of my work. The goal was to offer the community a diverse experience, featuring sculptures, installations, garments, textiles, and traditional oil paintings. I wanted them to see all that I was capable of.
Besides introducing myself to the art world and my local community, I had another significant goal — to make the show accessible. Museums and institutions often exclude communities like mine — Queer and BIPOC. Whether it's the high entry fee, the difficulty understanding the art, or the unwelcoming atmosphere, these spaces don't often cater to us.
The challenge was clear — how the fuck do I make art accessible to my community while maintaining professionalism for the art world? This is where my love for sculptures, fashion, and installations seamlessly fit in. I aimed to engage all senses — touch, taste, smell, hearing, and sight.
"This is just the fucking beginning..."
One prominent installation was a large box with a wooden frame draped in red fabric, doubling as a functional photo booth. Guests could have their pictures taken, watch them print out, and cut them into strips with provided scissors. On the same table, postcard prints and the Riversider magazine featuring me were available for guests to take home. 
Latino music from the likes of Arca, Rosalia, Kali Uchis, and other Neo-Perreo artists played for guests to dance and sing to.
Painted, embroidered, and embellished clothes hung from wires, encouraging guests to touch and examine the details, akin to luxury boutique displays. Underneath a large painting, a couch with jacquard tapestries of exhibit paintings draped over it invited people to feel the textiles, sit, and even wrap themselves in the art.
The altar was a centerpiece, displaying offerings for both the living and the dead, with the scent of pan dulce and cempasuchil filling the room. The first 50 attendees received a free sunflower as a thank-you gesture.
A red room offered a space for guests to grab drinks, jot down their thoughts, or use the restroom. 
Needless to say, everyone had multiple entry points to access and engage with the works personally. I wanted to inspire and reach as many people as possible, and seeing messages from attendees in the following days about how they displayed their takeaways warmed my heart. 
This is the show that nine-year-old me would have dreamed of attending. I'm doing this for my younger self, my mom, dad, siblings, family, community, and ancestors.
I am immensely proud of all that I accomplished with this show.
EXPLORE THE COLLECTION
EXPLORE MORE